Black Friday shopping is not for the faint of heart. It seems that every store is trying to one up each other on huge holiday savings. Holiday hot items are always on the top of the list for shoppers and retailers alike. If my mailbox had feelings it would feel overwhelmed and like it had the biggest cheat meal of the year. That poor little box has been stuffed with store mailers for weeks now. Once I crow bar the contents out, I then have to separate all of the circulars to see which store is beating out the other for the best deals. I feel the need to make a crime scene wall and try to web together who has what and at what price. It is not pretty. Time to Flipp it and reverse it. If you don't get that Missy Elliot reference then I need you to walk away and head to your favorite music app. She is a Queen and you must know her lyrics. I digress, Flipp is the game changer. Girl, rip down your wall of mapped together circulars and grab a cup of coffee and a cozy blanket. Once you're snuggled in, download the Flipp app and see how this one stop shop will organize Black Friday deals and steals for you.
The Flipp Breakdown for Black Friday::
Start by typing in your zip code. All you have to do is type in your zip code and Flipp takes care of the rest. With thousands of retailers for you to choose from, you can easily stay on top of deals at your favorite stores during Black Friday and beyond. Browsing is simple and you can easily curate a list of your favorite stores by tapping the heart icon on any retailer that you want to keep track of. These will save in a 'favorites tab' that you can go back to any time you want.
Black Friday circulars and deals will populate in order of expiration. This will help you spot deals happening right now. Simply click on an ad and click on items you would like to add to your clippings. Or, you can create a shopping list and Flipp will generate results of deals based on your search. If little Sally really wants that dancing llama for Christmas, Flipp is finding all the stores that carry it, while making sure you get the best price. There's even a dedicated Black Friday carousel, so you can easily browse the hottest items in your area.
Load coupons easily or view available matchups. You can even add your loyalty cards to stores you frequent to keep them in one consolidated location for easy access. You no longer have to worry about forgetting your cards at home and missing out on the points. Flipp has got you covered.
Get to shopping! Honestly, it really is that simple. Don't waste anymore time tagging pages in your circulars or opening several browsers to locate the best deals. Let Flipp do the hard part for you. However, we can't promise the battle is over. We all know Black Friday shopping lines are long. But, you can survive with the power of the three S': Sensible Shoes, Stretching, and Savings! Flipp has you all squared away on that last one. Happy shopping!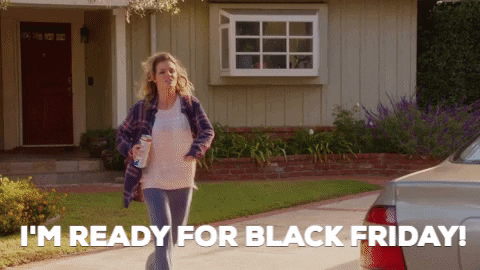 Don't forget to follow Flipp to stay savings savvy!